Sometimes it's straightforward and you can draw from our extensive pool of off-the-shelf solutions. More often that's not the case. The sheer diversity of offshore infrastructure dictates bespoke decommissioning solutions. Regardless, you can rely on Blakemere's extensive capabilities supported by an extensive track record of success in decommissioning all manner of assets: onshore, offshore, in air, and subsea. The off-the-shelf solution not ideal? No problem. We specialise in the bespoke application of existing technology, adapting and applying proven methods to meet new requirements.
Cutting
All equipment is designed in-house and continuously improved based upon experience, feedback, and lessons learned. A selection of our decommissioning equipment includes:
Diamond wire saws that will cut through anything. At our facility we keep various saws that span the range of 0-155" with larger sizes being developed as required.
Friction disc cutting for structures, pipes, and chains. These are remarkably versatile machines that have been adapted for a large number of bespoke applications.
Zone-rated high pressure and ultra-high pressure abrasive cutting for external and internal cutting of structures, pipes, and risers.
Flange bolt cutting tools that drive themselves around the flange. It's able to cut on either side of the flange, including in the gap between the flanges. It's ROV installed and the cut location is adjustable subsea.
For cutting requirements in hazardous areas, our hydraulic equipment is supported by our own zone-rated electric HPUs.
Subsea shears.
Subsea grapples.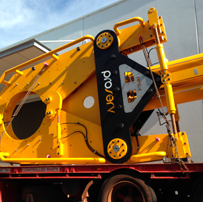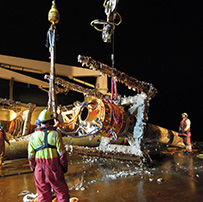 Plugging
The containment, or exclusion, of fluids and gases is fundamental to the integrity of subsea systems and the safety of people and the environment. So, when you have to decommission, disassemble, modify, or recover your assets and contain any substance in the process, you need a partner with experience developing solutions to suit your requirements. Blakemere is that partner.
Over the years Blakemere has developed a wide range of bespoke plugging solutions for all manner of applications: high and low pressure applications, high excursion and even non-circular solutions sealing against eroded bores, concrete bores, seam- welded pipe. Our track record is expansive and diverse. Many of the designs feature integral retention clamps and back seal testing capabilities. If the ideal solution doesn't exist, we'll create it for you.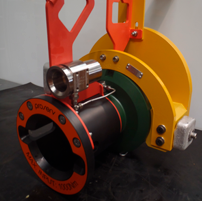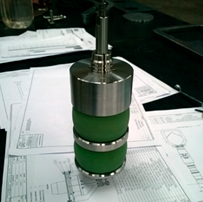 Energy and Infrastructure
Not everything we do concerns oil and gas. Blakemere has
been involved in projects outside oil and gas since the very beginning, and our presence in these fields continues to grow at an increasingly rapid rate. From designing connection systems for tidal turbines and wave energy machines, to cutting holes through dams and demolishing wharfs; we've been involved in some fascinating civil, energy, and infrastructure projects. Have a look at our track records for some details.
Buoyancy Removal
Dismantling a string of distributed buoyancy from a riser while subsea is a complicated process. Blakemere has developed a tool to return buoyancy modules to the surface safely, irrespective of their orientation or proximity to other modules. On the other hand, if you want to install buoyancy modules subsea, we've done that too.